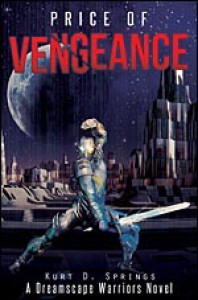 Review of Price of Vengeance
Rating: 4 stars
www.reviewoffantasy.com
Sci-fi wouldn't be a genre that I would normally read, but I'm glad I read Price of Vengeance. It was a very well written book, with enough interesting characters, as well as a Bear-lizard who can communicate telepathically, to keep everything interesting. I loved the dreamscape where Liam meets Jarek and finds out about who he is, and all about his family. The plot was very well written with enough betrayals, twists and turns to keep you turning the pages.
For me the title says it all. What price would you pay for Vengeance? It's something that can destroy a man's soul, and it almost destroys Liam's.
Liam is an orphan, his family slaughtered by the Chitan – (bug like creatures) and he's taken in by Marcus and his wife, he also inherits a big brother Randolf. We watch as Liam dedicates his life to being a solider never taking part in sociable affairs.
We learn a lot about Liam when the chitan attack and we see him in full throttle. He can fight, his abilities are amazing and well written especially when he jumps out of time _ (slows time down) the story continues to follow Liam his brother Randlolf and Azure a being of pure evil, who wants Liam on his side. The struggle between right and wrong, and hatred and love is saturated in this story, and love is stronger no matter what, that it can cause a person to let the hatred and anger go. This is very well shown with Celina's and Liam's story.
Overall a very well written book. One I feel all Sci-fi and fantasy/paranormal readers will enjoy.